The sophistication of Sotogrande: the very best of Andalusian style
By Paul Johnson on Sep 28, 2021 in Accommodations, Clubs, Europe, Family Travel, Featured, Food & Drink, Nightlife, Hotels, Leisure Travel, Real Estate, Regions, Resorts, Restaurants, Spain, Specialty Travel, Travel Miscellaneous, Western Europe
Hidden within eight square miles of Andalucia is arguably the most exclusive resort in all of Spain – Sotogrande. This upscale destination on the Costa del Sol is a haven for the rich and famous and ten times the size of Monaco. Development of the resort began in the 1960s when Filipino-American entrepreneur Joseph McMicking's concept was to create a sunny, upper-class community with a low-key lifestyle away from the camera gaze.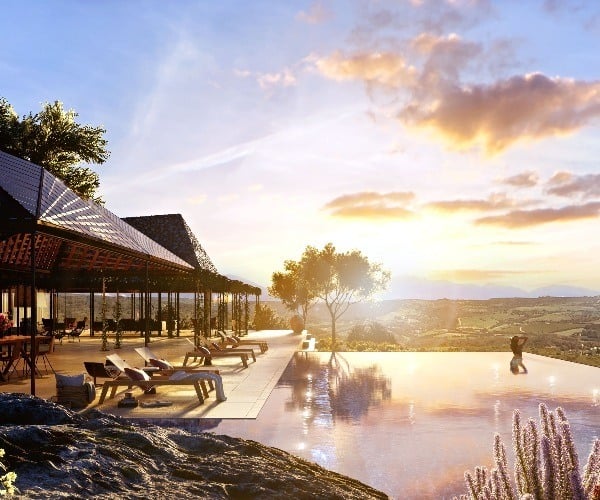 But what makes him so special today? I had the chance to sample the laid back style of Sotogrande earlier this month and can tell you why this resort offers visitors and residents a low-key yet elegant lifestyle.
Privacy and Security
One of the key things that sets Sotogrande apart is that it is home to a number of gated communities that help maintain the safety, security, privacy and exclusivity of the resort. It's a trend that came to Spain from the United States where living in a gated community meant prosperity. This comes with not only restricted access, but also lifestyle, community awareness, and private access to a variety of amenities. This appeals to both homeowners and investors as properties in a gated community tend to be well managed and this tends to positively impact the value of the property over time.
Casual elegance
Sotogrande offers a more relaxed and understated elegance than a place like Marbella or Saint-Tropez where people want to be seen. In Sotogrande, on the other hand, people don't want to be seen – they seek a laid-back Mediterranean lifestyle away from the public eye. It's more isolated, less built, with more greenery and space, and less pretentious. People can relax, breathe and be themselves. They can enjoy quality moments with their friends and family in a privileged setting, far from the hustle and bustle of the crowds.
World class golf
Sotogrande is a golfer's paradise and home to one of the most famous championship golf courses in the world: the Real Club Valderrama designed by Robert Trent Jones. This challenging course – considered the best in Spain – hosted the Ryder Cup as well as the former Volvo Masters – in addition to being the current venue of choice for the Andalucía Masters on the European circuit.
There are also many other excellent golf courses in the area; the wonderful La Reserva de Sotogrande, for example, hosted the ARAMCO women's series this year and has already organized European and women's events. Almenara Golf Club and world class neighbors; The Real Club Sotogrande and the San Roque Club are other notable examples of great golfing venues in the area. In fact, there are few landscapes in the world where so many top-level courses are within a short drive of each other.
First class polo shirt
During the summer months, the Sport of Kings takes center stage in Sotogrande. With now seven polo fields, four of which are considered world class, the Santa Maria Polo Club is widely regarded as one of the best polo venues in the world. It hosts the international Grand Slam polo tournament from late July to late August, an event that attracts thousands of spectators.
Less than two kilometers away, in San Enrique, the Ayala Polo Club has three other professional polo grounds. Both clubs were established in the 1960s and built on the region's equestrian facilities already established in 1920 at the Dos Lunas Polo Club near San Roque. A more recent addition is Polo Valley Sotogrande, which was established in El Secadero in 2015. These extensive facilities have firmly consolidated Sotogrande as Europe's premier polo resort.
Wonderful water sports
For those who love water sports, Sotogrande has a world-class marina. Sailing, windsurfing, kitesurfing, hydrofoil, scuba diving, snorkelling, kayaking and stand-up paddleboarding are all possible in Sotogrande. There's even a beach club inland at La Reserva (see below) with its own man-made lagoon and water sports center.
Exceptional cuisine
Sotogrande is full of places to dine, including some of the best restaurants in Andalucia. For a casual lunch, try Trocadero Sotogrande, which offers grilled meat and seafood, as well as rice dishes and cocktails in a modern tavern with a beachfront terrace.
This Mediterranean restaurant, just off the prestigious Paseo del Parque avenue, makes wonderful patatas bravas accompanied by a fairly powerful aioli. Do not miss the paella dishes and arroz negro (black rice), a traditional Valencian and Catalan paella-type dish made from squid ink.
The atmosphere is very relaxed and it is located directly on the beach. If you're lucky like us, you might even spot dolphins while dining.
Another consideration for lunch is The Beach Restaurant at La Reserva Club. Their grilled octopus was the highlight of the trip for me.
Also, don't miss the creative cuisine of the Society restaurant in SO Sotogrande, which will open next year. On our media trip we were fortunate enough to have a fabulous private dining experience there where the slow cooked lamb and textured celery root were just one of many perfectly executed dishes.
sand beaches
Sotogrande is home to many great beaches. The largest of these is Sotogrande Beach which stretches over 5 km from the Guadiaro River to the Faro de Carbonera Lighthouse, overlooking the Strait of Gibraltar.
Perhaps the most popular is Torreguadiaro Beach (Playa de las Conchas), located near the port, with mostly fine sand and a few occasional small stones. For a more exclusive beach experience, however, read on…
The Reserve Club
With stunning views over the Andalusian countryside and the Mediterranean beyond, Club La Reserva de Sotogrande offers the best of sophisticated family living. This 400 hectare gated community is an upscale country club in Sotogrande Alto.
You would be wrong if you thought being in the interior of the hills meant you wouldn't have access to the beach. On the contrary, La Reserva Club is home to the only beach club inland in Europe that opened its doors two years ago – a remarkable facility that means residents don't even have to leave the resort for restore. This sandy bottom lagoon is perfect for families and even has its own water sports facility.
Being a gated community, La Reserva also offers access to a number of amenities – as well as golf, of course, there is everything from tennis and paddle courts to restaurants and a sports academy.
La Reserva Club also offers a number of exceptional family homes and villas within its private estate (see below), from ultra-luxurious hilltop villas to village-style townhouses just meters from the clubhouse.
SO Sotogrande
For those who want a taste of the relaxed Sotogrande lifestyle, the new SO Sotogrande is the perfect place to stay to get a feel for this Andalusian paradise. Offering guests the opportunity to savor the Spanish lifestyle in the style of an Andalusian cortijo, the hotel has exceptional facilities for golf, spa, fine dining and poolside relaxation.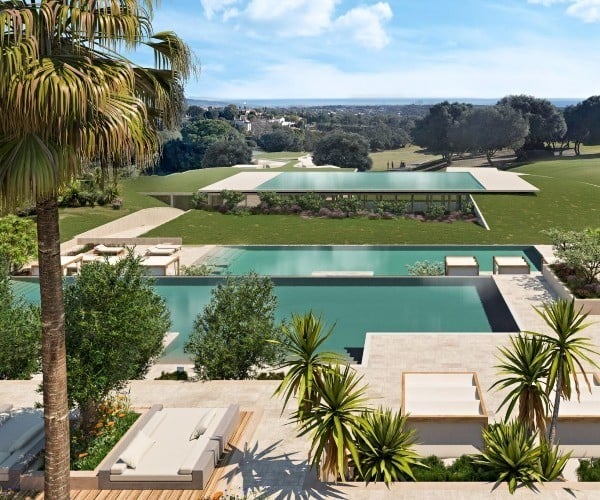 Check out my short stay review to learn more about the only 5 star hotel in Sotogrande.
Exclusive real estate
And for those looking for a more permanent base in Sotogrande, whether as a primary or secondary residence, there are some very exclusive properties on the market, the most notable being within La Reserva Club. These prestigious developments benefit from access to the high-end amenities of La Reserva while preserving privacy
We were fortunate enough to get a taste of the villa experience with a special themed dinner with an Argentinian asado at Villa La Escondida, overlooking the 18th hole of the La Reserva Championship golf course – a special media experience that money can't buy but gave us a brief glimpse into the villa lifestyle.
The seven
Set among olive groves and on private plots of over 10,000m² on La Reserva, are seven ultra-luxurious properties, each designed by a leading international architect.
From Villa Jensen designed by Norwegian architect Jan Jensen to Villa Ark inspired by Marbella-based architects ARK, each property has its own unique style set in an iconic landscape imagined by Jean Mus.
This prestigious development of iconic villas is set on a hill to make the most of Sotogrande's magnificent landscapes, with floor-to-ceiling windows and stunning panoramic sea views.
The fifteenth
Le Quinze offers breathtaking views of the Andalusian hills, the Sotogrande coast and beyond. The fifteen residences have "suspended" plots of between 4,000 and 5,000 square meters, exploiting the natural environment and creating an ideal living environment, complemented by a concierge and lifestyle service.
The Mirador
El Mirador is perched in a privileged position above the La Reserva club and its frontline golf course. These six contemporary four- to nine-bedroom villas are designed by ARK Architects to maximize privacy, enjoying exceptional sea and golf course views in a private gated community.
Lagoon Villas
For those looking for a beachfront experience, the Lagoon Villas overlook the sparkling waters of the La Reserva Club lagoon and its sandy beach. These sustainable designs, along with Jean Mus landscaping, benefit from a barefoot lifestyle that allows residents to connect with nature while enjoying beautiful panoramic views over the lagoon and towards the clubhouse.
Green Village
Village Verde adopts a traditional village concept with beautifully designed apartments, penthouses and townhouses, all built around lush grounds. Residents enjoy everything at their doorstep and have exclusive access to the beach as well as to the sports facilities of La Reserva Club.
International School of Sotogrande
Sotogrande is also home to one of the best international schools in the world. With more than 1,000 students from more than 50 countries, Sotogrande International School welcomes children aged 3 to 18, in a high quality personalized learning environment. As one of the best international schools in Spain, it follows the International Baccalaureate curriculum, consistently achieving scores above the IB global diploma average.
To conclude
On top of all these many attributes and of course the Mediterranean sunshine, Sotogrande is only a 40 minute drive from Marbella in the northeast, or the same distance from Tarifa, famous for its surfing, in the other direction. along the coast. The micro-state of Gibraltar, with its airport, historic botanical gardens and monkeys, is only 30 minutes away. Access is also possible via Malaga airport which is about an hour away.
In short, Sotogrande is the perfect destination for anyone looking for understated and understated luxury – a place where people from all over the world come together to enjoy a relaxed and sophisticated lifestyle with their family and friends.
Disclosure: Our stay was sponsored by Sotogrande.