An active family holiday in Scotland: Day 10
It was a quiet start to the day, waking up to our beautiful view of the Firth of Clyde. We had this place to ourselves overnight. Today was the day we were picking up our dog George before heading to Glasgow for one last adventure.
We chose to go whitewater rafting with Outdoor Pursuits Scotland at Pinkston Watersports Center, Scotland's only man-made whitewater course just 5 minutes from Glasgow city center. It was a first for us, but we were looking forward to it. When we arrived there was a junior canoe slalom event going on, and we watched some of that with interest before our turn to whitewater rafting arrived.
We also had a look at the Loading Bay Skatepark across the road and Glasgow Wake Park next door. These three facilities have transformed this area of ​​the Glasgow Canal into a unified brand of adventure and alternative sports.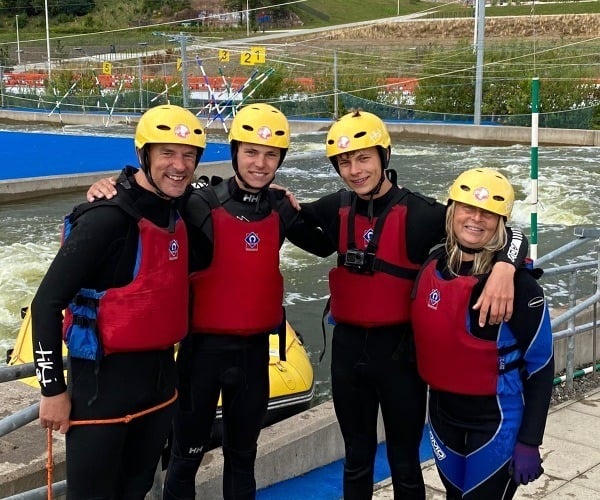 Once the canoe slalom was over, it was time for our turn. Callum gave us a safety briefing, then we did a few descents along the course under his direction, before he let us go on his own! It was a lot of fun, quite difficult at times, but really enjoyable too.
Our solo attempts were not without incident. On our penultimate descent, we lost one of the boys when our raft collided with an obstacle, but we had a good laugh afterwards!
If you are looking for a fun thrill with a difference then this is definitely something we recommend you try. And, in addition to offering this activity in Pinkston, Outdoor Pursuits Scotland also offers fun whitewater rafting trips to various locations across Scotland.
Our plan after the rafting was to head to Ae Forest (another of the 7stanes) to do more mountain biking before heading home. However, with the forecast for the next day being quite bad, we decided to head straight home instead. We had an amazing time and white water rafting was a fitting way to end our trip.
Many people return from vacations well rested. For us, we came back needing a rest… but in a nice way. Ten days of running, mountain biking, paddle boarding, sailing, rafting and open water swimming doesn't seem like everyone's cup of tea, but for us and our active teens it was a vacation. perfect family. Happy children = happy parents, even if we were a little tired at the end!
To read the previous days, click below:
An active family holiday in Scotland:
Day 1: Arrival in Mossyard
Day 2: Mossyard – Kirroughtree – Glentrool
Day 3: Glentrool
Day 4: Glentrool to Largs
Day 5: Largs – Scalpsie Bay – Tarbert
Day 6: Tarbert – Ardishaig – Otter Ferry
Day 7: Otter Ferry – Ardmarnoch Bay – Portavadie
Day 8: Otter Ferry – Ardmarnoch Bay – Portavadie
Day 9: Portavadie – Largs
https://www.youtube.com/watch?v=X_zSSEAAPeY
Disclosure: Our whitewater rafting was sponsored by Outdoor Pursuits Scotland.