6 of the best ways to experience the Cultural Heart of Germany
As normalcy slowly returns to our lives and more and more people are vaccinated, our ability to travel is also gradually improving. If you find yourself in the regions of Saxony and Thuringia, known as the cultural heart of Germany, here is a selection of unforgettable experiences, including magical bridges and trails in gloriously preserved forests, for you to enjoy.
Breathe deeply in ancient forests

A tourist initiative to our liking: the "Urwaldpfade" (jungle trails) of Thuringia take hikers through a selection of the most primitive and oldest forests in the region. You can choose from more than a dozen routes, including the beautiful UNESCO-listed Hainich National Park, to dive deep into unspoiled nature. It's clean, green and exactly what we all need now. Convenient: outdoor platform Outdooractive lists them all with an English translation option.
Paddle to the lakes of Leipzig
Combine urban freshness with outdoor activities in Leipzig, where a canal system takes you to 'Leipzig Lakeland', a recreation area and tourist regeneration project showcasing a collection of idyllic lakes, which were once pit mines. open. Canoes can be hired in the downtown area to travel approximately 5.5 miles to the lakes. Or take the bike and enjoy the trails around the water, beach and water sports included.
Unique accommodations in Saxony

From romantic vineyards to overnight in a factory loft, Saxony offers travelers a diverse range of accommodation options beyond the usual. Highlights include lakeside holiday apartments in the old guard houses of Moritzburg Castle just outside Dresden, charming guest houses on the historic Hoflößnitz wine estate or a super "Meisterzimmer" loft cool on the grounds of the Leipzig art center, Spinnerei, a former cotton mill. Take and choose!
Cameras ready

The stunning 19th-century Rakotz Bridge in Kromlau Rhododendron Park, near the Saxony-Poland border, is, unsurprisingly, a photographer favorite. The bridge was specially constructed to create a circle as it reflects in the waters below and after extensive restoration work to save its delicate structure, the merry snappers can once again return to their perfect angle. Tip: Combine your visit with an exploration of the nearby UNESCO World Heritage Site Prince Pueckler Park Bad Muskau.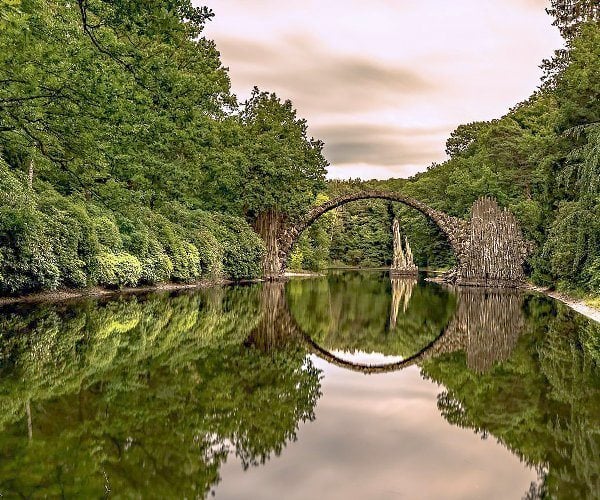 Discover the hidden wine region of Thuringia

It's not widely known, but wine growing is a thing in Thuringia and quality wines have been produced for many centuries in the Saale-Unstrut wine region, one of the northernmost wine regions in Europe. Tip: Explore the vineyards on the hiking trails around the town of Jena to the east of Erfurt, the capital of Thuringia, and don't miss the palaces of Dornburg! This dream collection of three palaces and beautiful gardens above the Saale river offers great views and is part of this year's BUGA Garden Festival with its center in Erfurt and a range of venues throughout the region.
Hello, hobbit houses
Here's a voucher for families: Thuringian holiday village "Auenland" has eight hobbit houses for rent and these 3-star mud houses for up to 4 people certainly offer more comfort than what Frodo Baggins is expecting. used to. The location right in the Thuringian Forest Nature Park is ideal for outdoor adventures and exploring Germany's most popular long-distance hiking trail, Rennsteig. And the on-site adventure playground and summer toboggan run keep kids and parents happy.