10 Sydney locations to refresh your Insta feed
With countless breathtaking views to admire and striking architecture, there are few destinations as photogenic as Sydney, a dreamy union of sand, surf, city and nature. From Bondi Beach to Sydney Harbor viewpoints, here are the best Instagram-worthy spots in the city.
Bondi Icebergs, Bondi Beach
Sydney has its fair share of amazing ocean pools, but none are as legendary as Bondi Icebergs. The 50m expanse of turquoise is set against a backdrop of ocean and sandy Bondi Beach. No wonder it's a magnet for the beautiful people of the city. Whether you're lining up a photo from the water or taking in a bird's-eye view from the Icebergs Dining Room and Bar, you'll quickly understand why this pool is considered the most photogenic pool in the world.
Brontë Baths
When you've taken your Bondi Icebergs photo, follow the scenic Bondi Coastal Walk to Coogee and finish your workout with a refreshing swim at Bronte Baths. Between the beloved beaches of Bondi and Coogee in eastern Sydney, Bronte Beach has a crystal-clear aquatic reserve for snorkeling and diving, as well as an ocean swimming pool built into the rocky cliff of the southern promontory of Bronte, for a protected swim. For a quality photo, take a walk on the footbridge, climb the rocks and from the semi-shaded cove, soak up a breathtaking view of the bay. Come at sunrise for more sparkle.
Mrs. Macquarie's chair
If you're looking for breathtaking views of Sydney Harbor, Sydney Opera House and Sydney Harbor Bridge all in one setting, come to Ms Macquarie's chair for a million dollar photo. On a peninsula east of the Sydney Opera House in the Royal Botanic Gardens, this rock-hewn bench is the perfect perch to capture the sun setting behind some of the city's most recognizable landmarks. Break.
manly wormhole
Thought to have been dug by fishermen a century ago as a shortcut between Freshwater Beach and Manly on Sydney's north coast, the 'Manly Wormhole' (officially named the Queenscliff Tunnel) is one of the best kept secrets of the city. Follow the 50m-long passage as it plunges straight into the cliff and climb over boulders to reach the scenic end: shimmering views of the ocean, perfectly framed by the mouth of the tunnel.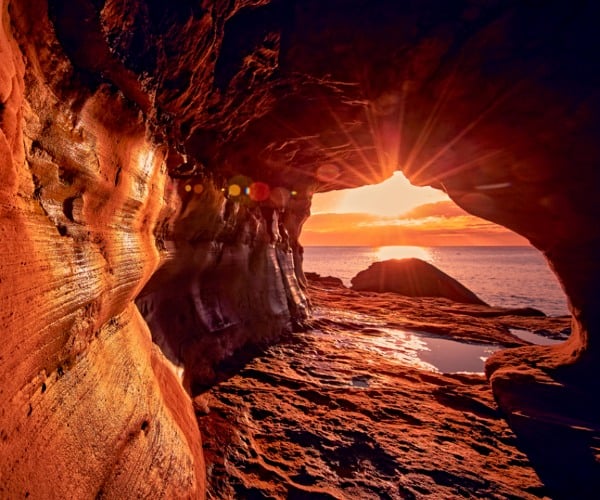 Queen Victoria Building
Located on George Street in the heart of the city, the Queen Victoria Building from 1898 is a fantasy of elaborate Romanesque architecture. Every detail here is worthy of a photo, from the grand arches to the stained glass windows and high domed ceilings. The heritage-listed space spans an entire block, now filled with a maze of cool shops and cafes, some of which have their own Instagram appeal. Whether you are outside or inside, you will leave with a photo album.
Wendy's Secret Garden
You might think you've been transported to the pages of a fairy tale in Wendy's Secret Garden, a dreamy tangle of plants, trees and flowers surrounded by footpaths and dotted with hand-painted artwork. northern edge of Sydney Harbor. The garden was created over time by Wendy Whiteley, the widow of famous artist Brett Whiteley. The Kaleidoscope of Color – part of the Lavender Bay Parklands – includes many hidden coves for picnics and quiet contemplation. Or a perfectly synchronized photo.
Forgotten Songs, Angel Place
Look up: an ethereal group of over 100 bird cages hangs above Angel Place. A pedestrian lane between George Street and Pitt Street in the center of town, the striking artwork is courtesy of Michael Thomas Hill, with the aim of exploring how Sydney's wildlife evolved and adapted to coexist with urbanization. Once you've taken your photo, take a second to listen to the bird calls, which change as day passes into night.
Paddington Reservoir
Travel just 3 miles south-east of the city to discover another hidden garden, this one nestled in the heritage-listed Paddington Reservoir in Paddington. Since it was decommissioned in 1914, the space has been transformed into a verdant Roman hideaway, below the street and filled with a lake of contemplation, a stunning wall of art and a floral canopy. suspended. Much of the original architecture – towering arcades, brick and iron structures – has been preserved, creating a dramatic backdrop for photoshoots.
Naked island
Travel 17 km south-east of the city towards the seaside suburb of La Pérouse, where a 19th-century fort sits on the Bare Island. The only thing between the mainland and the small atoll is an old wooden footbridge; stroll to take in views of the Botany Bay coastline and witness the bi-monthly Blak Markets, which feature native artists and craftspeople. You're not the only one who thinks it's a cool setting: the fort on the island is featured in the movie Mission: Impossible 2.
Carré Vert bookcase
A rainbow wall of books: tick. More than 40 circular skylights flooding the underground space with natural radiance: tick. Hidden reading corners surrounded by a green atrium: tick. Dozens of spectacular architectural flourishes: tick. The Green Square bookcase was practically designed for Instagram. This photogenic sanctuary of literature is just 4 km south of the city center and is part of a larger mixed-use complex with lush gardens and water features.