The Garden State of the US, New Jersey, is known for the best production of corn, blueberries, and tomatoes. There is no doubt in how delicious the food delicacies around here happen to be. This beautiful US state is known for many things apart from the food, its gorgeous beaches, busy roads, an intense political conundrum that happen to leave the public amused and its amazing diverse culture. While the beauty of the state plays a great role in the general perception of the state, there are few supernatural aspects too, which surround the state and is famous in their own right.
10 Haunted Places In New Jersey
Believe it or not, New Jersey has its own set of murder and mayhem that incorporates the madness of some of the Garden States paranormal beauty. Let's get on with it, for we have listed ten of the most haunted places in New Jersey, for your thrill.
1. Trenton Psychiatric Hospital
Image Source
Before you say 'Ugh what a cliché', wait! Psychiatric hospitals tend to attract a lot of negative energies, and sometimes more than the murder and madness, it's that attraction of evil to a place that gives way to hauntings. In New Jersey, many psychiatric hospitals have been demolished, however; the Trenton Psychiatric hospital remains like it was, with the wear and tear of ages. It is believed that the Trenton hospital's director, Dr. Henry Cotton, supposedly believed that patients could be cured of their mental illness by removing their organs. He indulged in many malpractices on patients without using any anesthesia. These procedures of his led to the deaths of many patients. It is said that even now, screams can be heard and shadowy figures are seen every now and then. Some believe the souls of those who died on his table are trapped here.
Location: 101 Sullivan Way, Trenton, NJ 08628, USA
Must Read: 12 Most Luxurious Villas in USA For Your Next Family Vacation
2. Burlington County Prison
Image Source
The prison has now transformed into a museum, which has made the murders and executions concrete in this place, with stains of blood on the walls of this building. The most active spots are the basement and the death cell. Reports have said that disembodied screams, feeling watched, certain cold spots, strange noises of machinery moving etc. can be heard even now.
Location: Mt Holly, NJ, United States
3. Lambertville High School
Image Source
It is a common phenomenon for old schools to be haunted, so is this school. The tragic legend of this school began in 1935, where a student of a rival school died. The young boy died during the annual Thanksgiving 'Turkey Bowl' football game. He died due to a broken neck from a rough tackle. The game was banned from the school by a petition filed from his parents. To this day, the school has no form of the game going on. The school closed in the 50s. Unnatural deaths and sightings have been seen ever since. It has been one of the most visited haunted places in New Jersey for Halloween.
Location: 35 Washington St, Lambertville, NJ 08530, USA
Suggested Read: 10 Thrilling Water Parks In USA To Pamper That Child Within You
4. The Devil's Tree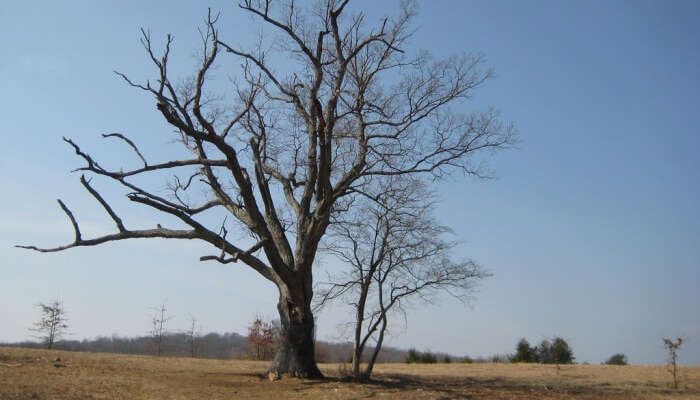 Image Source
When we look at a tree, standing all by its own without any fellow mates, we have varied perceptions regarding it. It is said that a farmer, who lived nearby, took his family to the tree and murdered all of them. Then he hung himself from that very tree. Since then, there have been multiple murders and suicides around that tree. It so happens that the snow fails to stick to the tree's periphery leading to beliefs that the evil that dwells in that tree is the reason behind it.
Location: 181 Mountain Rd, Basking Ridge, NJ 07920, USA
5. Devil's Tower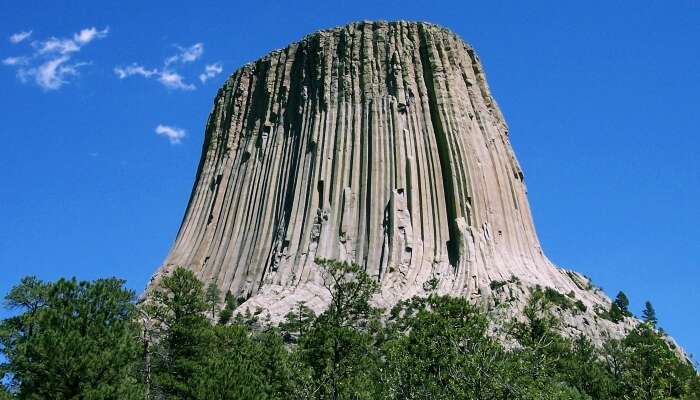 Image Source
This magnificent tower seems cordial and is known to be built by plantation owner Manuel Rionda for his wife. He wanted her to have a panoramic view of the New York City. It so happened, she supposedly looked from the tower and saw her husband with another woman that drove her to jump off the tower and meet her tragic death. There have been many attempts to demolish the tower but workers have known die due to strange circumstances. Hence, the tower remains with the agony of Mrs. Rhonda's dwelling there.
Location: WY-110, Devils Tower, WY 82714, USA
Suggested Read: 10 Best USA Hotels For A Relaxing American Vacation
---
Planning your holiday but confused about where to go? These travel stories help you find your best trip ever!
Real travel stories. Real stays. Handy tips to help you make the right choice.
---
6. The Gates of Hell
Image Source
The name itself suggests a sense of paranormal existence to it. This structure is a network of tunnels and storm drains. This place is bound to give nightmares to those who decide to spend a night there. Some believe it may actually be the mouth of Hell. Apart from the creepiness, the place is known to rapidly flood with foul smelling water. The Gates of Hell is known to be guarded by a spirit known as Red Eyed Mike. There are supposed to be hidden rooms in the tunnels, with whispers and screams. Some say it is a place of sacrifice, which reasons with the dead animals that are found in the place.
Location: Clifton, New Jersey
Suggested Read: 33 Largest Zoos In The World Where You Can Spot The Rarest Fauna & Have Ultimate Fun!
7. Shades Of Death Road
Image Source
The name itself is creepy; imagine having a history to go with. This road has numerous counts of murder that have been stacking up for centuries. During the day this road will appear to be ordinary, however, when night comes, strange apparitions and lights have been noticed.
Location: Warren County, NJ, USA
8. Pine Barrens
Image Source
A huge stretch of wilderness, spanning seven counties of south NJ, with hauntings, is the beautiful Pine Barrens. The nights in this stretch is spooky and gives the creeps to people passing by. It is known as one of the scary haunted places in New Jersey. Also, this place is known to be the stomping ground of the infamous Jersey Devil.
Location: South Jersey
Suggested Read: Clubbing in Manhattan Or Bowling In Brooklyn: Enjoy The Exciting New York Nightlife
9. Greystone Park Psychiatric Hospital
Image Source
Originally known as the New Jersey Lunatic Asylum, it opened in 1876 and has a long history to support it. it was built with the intention of housing hundreds of patients but managed to pack in over 7500 of them, stretched over 675,000 square foot of area. Famous songwriter, Woody Guthrie was admitted here on the 1950s for Huntington disease.
Location: 59 Koch Ave, Morris Plains, NJ 07950, USA
10. Watcher House
Image Source
The Watcher House is a celebrated haunted place in New Jersey. It is said that a family had moved into their new million-dollar home and soon began to receive notes from 'The Watcher'. It is said that the entity was obsessed with the house. This led to the belief that a disembodied entity is watching the residents' every move. There are plenty of theories that go with the history of 'The Watcher'.
Location: Westfield
Further Read: 20 New York Restaurants That Tell Why It Is The Culinary Capital Of The World
The hauntings in New Jersey do not end to the list and have many more stories to tell. While some live to tell the tale, some just take it with them to the grave. So, if you've have that fearless spine, then plan and customize your USA holiday with TravelTriangle and explore the mystery behind these eerie locations!
---
Looking To Book A Holiday Package?
Book memorable holidays on TravelTriangle with 650+ verified travel agents for 65+ domestic and international destinations.
---